Inside the Roses of Yore CD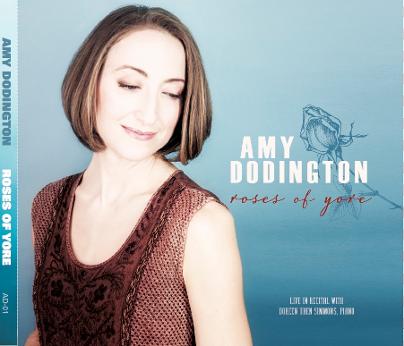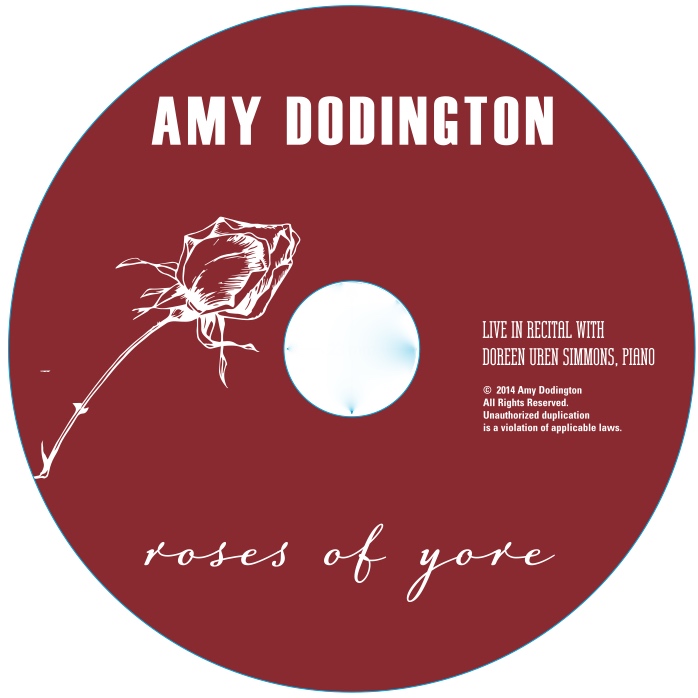 CD cost is $20 (tax included), plus $3 for shipping within Canada. Please Note: The website is currently only accepting orders for domestic shipping. If you want your CD shipped outside of Canada, please contact me directly.





Roses of Yore


Amy Dodington, Live in Recital with Doreen Uren Simmons, Piano



For over ten years now, I have been performing recitals like this one in various venues around Ontario. These "nostalgia" recitals are all based on a similar framework: I weave together favourite selections from the opera, oratorio, art song, music theatre and folk genres, and then conclude with a set of "parlour" songs from the early 1900s. Because of my unique childhood growing up in a home stuffed to the gills with gramophones, phonographs and more types of ancient recorded media than one could imagine, I developed a feel for these parlour songs and their special function in the lives of those who loved and sang them. This was an era before radio or television, when family time for many meant gathering around the piano on a Sunday afternoon. There is an emotional quality to these songs that to today's ears can seem melodramatic, but I see in their sometimes simple sentiments an innocence and charm that believe in a shared humanity. Although forgotten by many, these songs hold a special place in my heart. Like the woman from The Jasmine Door who still has lots of love to give even though her husband has lost interest, these songs still have much to offer us. They still have "roses sweet as those of yore."

(See my blog about my "nostalgia" recitals.)

Live in Recital at the Gravenhurst Opera House, July 14, 2012
Opera:
1. Purcell: Hark! The Echoing Air (The Fairy Queen ) 2:41
2. Handel: V'adoro, pupille (Giulio Cesare ) 5:16
3. Puccini: *O mio babbino caro (Gianni Schicchi ) 2:24
Art Song:
4. Hahn: L'heure exquise (text by Paul Verlaine) 2:28
5. Barber: *The Monk and His Cat (VII from Hermit Songs ) 2:18
6. Schubert: Gretchen am Spinnrade (based on Goethe's Faust ) 3:53
7. Glazunov: Восточный романс ("Oriental Romance") (text by A. Pushkin) 2:08
Folk:
8. She Moved Through the Fair ( Irish trad./Hughes/Colum) 3:04
9. There' s Nae Luck About the House ( Scottish trad./Adam) 2:11
Music Theatre:
10. *If I Loved You (Carousel - Rodgers/Hammerstein) 2:45
11. *Edelweiss (The Sound of Music - Rodgers/Hammerstein) 2:33
12. *Once In Love with Amy (Where's Charley? - Loesser) 1:30
"Parlour" Songs:
13. Song of My Dreams (1924) - Byron Gay 2:22
14. The Village that Nobody knows (1937) - Haydn Wood/H. Simpson 3:19
15. Roses of Picardy (1916) - Haydn Wood/F. Weatherly 4:29
16. A Brown Bird Singing (1922) - Haydn Wood/R. Barrie 2:51
17. All For You (1919) - Easthope Martin/H. Taylor 1:49
18. The Birth of Morn (Dawn) (1902) - Franco Leoni/P.L. Dunbar 1:33
19. A Perfect Day (1910) - Carrie Jacobs-Bond 2:45
20. The Jasmine Door (1909) - Alicia Scott/F. Weatherly 2:42
21. *When I Have Sung My Songs (1934) - Ernest Charles 2:21
* track 3 ©1918 Casa Ricordi; track 5 ©1954 G. Schirmer Inc.; track 10 ©1945 Williamson Music; track 11 ©1959 Williamson Music; track 12 ©1948&1961 Frank Music Corp; track 21 ©1934 G. Schirmer Inc. Mechanical licenses for these works granted through CMRRA.
----------------------------
Produced by Amy Dodington (www.amydodington.com)
Recorded and mixed by David Greer of Bolt Upright Enterprises
℗ 2014 Amy Dodington
Album artwork ©2014 Blu Design Concepts
Album photos ©2011 Ian Brown photography
Hark! The Echoing Air.mp3
Gretchen am Spinnrade.mp3
There's Nae Luck About the House.mp3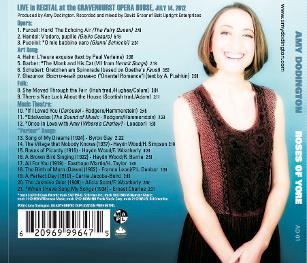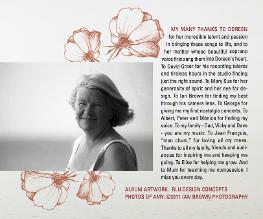 My many thanks to Doreen for her incredible talent and passion in bringing these songs to life, and to her mother whose beautiful soprano voice first sang them into Doreen's heart. To David Greer for his recording talents and tireless hours in the studio finding just the right sound. To Mary Sue of Blu Design Concepts for her generosity of spirit and her eye for design. To Ian Brown for finding my best through his camera lens. To George for giving me my first nostalgia concerts. To Monica and Peter for finding my voice. To my family - Dad, Vicky and Dave - you are my music. To Jean François, "mon chum," for loving all my roses. Thanks to all my family, friends and audiences for inspiring me and keeping me going. To Elise for helping me grow. And to Mum for teaching me compassion. I miss you every day.
CD liner also includes some notes and translations.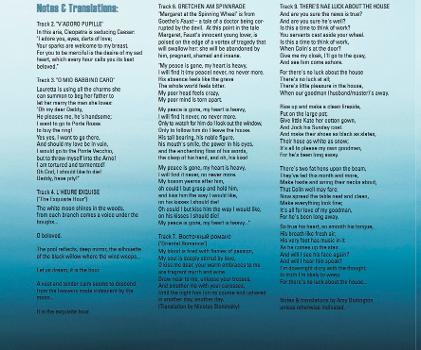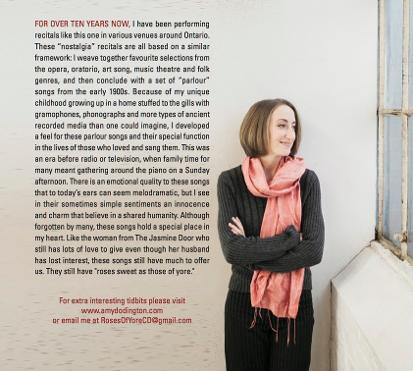 Feedback:
Read the late Helen Heubi's review of the original concert here (note it had a different title!).
Also, check out this great interview with Chris Eakins on The Musician's Path Podcast, talking about, among other things, my passion for historical parlour songs and advice for aspiring artists & musicians.