Audio/Visual
See below for CD information, podcast interviews and video performances.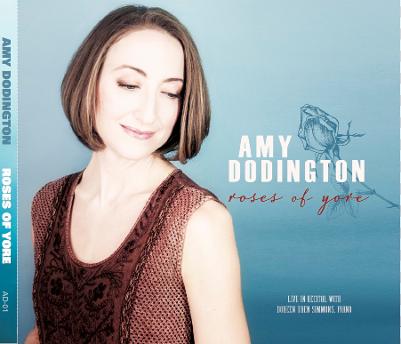 CD available for order: Roses of Yore
Take a look inside for CD details, sample tracks, and ordering info.



Video Performances of Amy




Concert Potpourri: Passages from "Ah! Je veux vivre!" (Romeo et Juliette; Gounod) - "I Want To Sing In Opera" (Arthurs) - "Mondnacht" (Schumann) - "Anakreons Grab" (Wolf) - "Rejoice Greatly" (Messiah; Handel) - "Aus Liebe" (St. Matthew Passion; J.S. Bach) - "Не Пой, Красавица" (Rachmaninoff) - "Eriskay Love Lilt" (Scottish trad arr. Kennedy-Fraser) - "The World Is Waiting for the Sunrise" (Seitz)
Pianists Svetlana Gojevic, Ellen Meyer, Doreen Uren Simmons, Geoffrey Conquer, Shawn Grenke.
Locations: Huntsville, Gravenhurst, Barrie, Toronto, 2010-2011

"Parlour" Songs:
The Jasmine Door
by Alicia Scott, words by Fred Weatherly, 1909
pianist Ellen Meyer
Toronto, 2010
This is one of my favourites: The words are by Fred Weatherly, who wrote the words to Danny Boy. The song is about an older woman whose husband has lost interest in her, but she still loves him just as strongly and passionately as she ever did. This sentiment, to my mind, can also apply to these old "parlour" songs. People today have forgotten many of them, but the abandoned songs still have "roses sweet as those of yore…"

"Parlour" Songs:
Roses of Picardy
by Haydn Wood, words by Fred Weatherly, 1916
Pianist Doreen Uren Simmons
Barrie Colours of Music Festival, September 2011

"Parlour" Songs:
I Hear You Calling Me
by Charles Marshall, 1908
Doreen Uren Simmons, piano
Barrie Colours of Music Festival Sept. 2011

Art Songs:
Gretchen am Spinnrade
by Franz Schubert
Ellen Meyer, piano
Toronto, 2010
Gretchen, madly in love with Faust, sits at her spinning wheel with her spinning thoughts. She has lost her peace and will never find it again. She obsesses about Faust, how wonderful he is. Distracted by the ecstatic memory of his kiss, her spinning stops. But it inexorably starts up again, as do her thoughts.


Art Songs:
Romance: "Silence Ineffable"
by Claude Debussy, poem by Paul Bourget
Ellen Meyer, piano
Toronto, 2010
The music and silence of the moment when two hearts fall in love.

Art Songs:
The Secrets of the Old
by Samuel Barber
Ellen Meyer, piano
Toronto, 2010

Music Theatre:
"I Could Have Danced All Night" (My Fair Lady)
Ellen Meyer, piano
Toronto, 2010


Music Theatre:
"If I Loved You" (Carousel)
Ellen Meyer, piano
Toronto, 2010



Opera:
"Un bel di" (Madama Butterfly)
(Note: I'm a lyric rather than dramatic soprano but find this aria to be quite effective in my solo shows)
Ellen Meyer, piano; Toronto, 2010
Butterfly is a Japanese woman abandoned by her American husband, a naval Lieutenant. In this scene, her maid wants her to "move on" since there has been no sign of him in three years. Butterfly admonishes her for her lack of faith and describes in rich detail the fine day when he will return. "You can have your fears," she says to her maid. "I with my sure faith will wait for him!" By the way, at the end of the opera he does return as she predicted, but he brings his American wife with him. Butterfly sends her son out to greet his father while she kills herself behind a screen. That's opera for you!

©2011 Amy Dodington | All Rights Reserved. Website Designed by Big Egg Studio